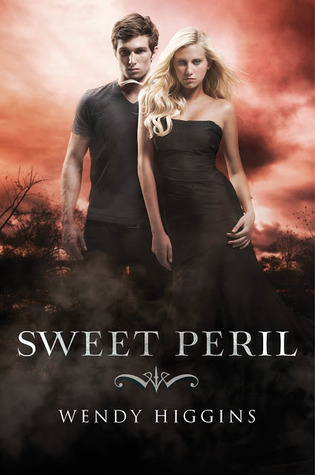 Sweet Peril
Book 2 of the Sweet Evil Trilogy
Written by Wendy Higgins
Pages: 371
Published: April 30th, 2013
Format Read: Ebook
Synopsis
Anna Whitt, the daughter of a guardian angel and a demon, promised herself she'd never do the work of her father—polluting souls. She'd been naive to make such a vow. She'd been naive about a lot of things.
Haunted by demon whisperers, Anna does whatever she can to survive, even if it means embracing her dark side and earning an unwanted reputation as her school's party girl. Her life has never looked more bleak. And all the while there's Kaidan Rowe, son of the Duke of Lust, plaguing her heart and mind.
When an unexpected lost message from the angels surfaces, Anna finds herself traveling the globe with Kopano, son of Wrath, in an attempt to gain support of fellow Nephilim and give them hope for the first time. It soon becomes clear that whatever freedoms Anna and the rest of the Neph are hoping to win will not be gained without a fight. Until then, Anna and Kaidan must put aside the issues between them, overcome the steamiest of temptations yet, and face the ultimate question: is loving someone worth risking their life?
Review
This is the second book of a series that I have really enjoyed and cant wait to finish. It was a fun and very enjoyable fast paced read. I really like the main character in these books shes gets on with what needs to be done to keep her self and her love ones safe and she doesn't whine about it too much. She also has a lovey steamy romance that goes on, which is to die for.
This is the only book ever where I will say I like the love triangle that's going on. The main character Anna isnt annoying about it, she knows what boy she wants so doesn't spend half the book debating and playing the 2 boys. Normally I hate love triangles, they drive me metal particularly in YA novels the female sits and debates it for half the bloody novel, but Anna knew what and who she wanted from the get go so there was none of that crap.
I feel this book had a good mix of the cute but intense romance and all the awesome paranormal action. I really like the demon council that looks after different sins idea in this series. I thought it was a really different concept to most paranormal angel and demon books which there are allot of so new ideas for that type of book mustn't be the easiest thing in the world to think of.
I don't really have any faults for this book it was a very enjoyable read all round that I would recommend to any paranormal lover.
*4 out of 5 stars*